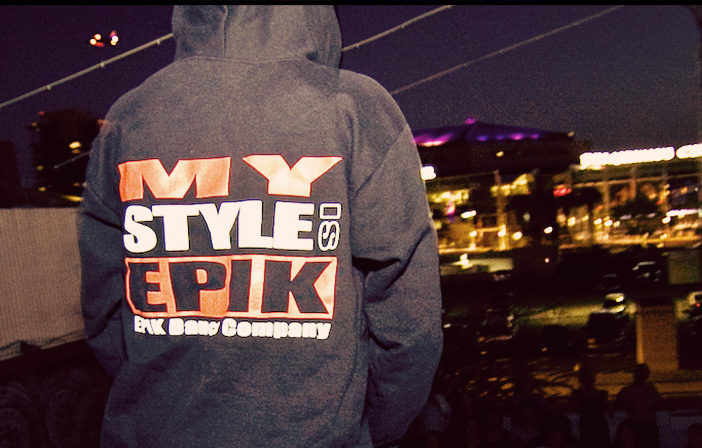 In 2007, Sarah "Saza" Kent and Luis "Weezy" Egurrola, two Phoenix natives, formed EPIK Dance Company. By bringing together classically trained and street dancers, they helped shape Arizona's premier street-fusion dance company.  Within their first year of existence, they were winning battles and performing for large audiences, including MTV's America's Best Dance Crew Tour. Soon after, they decided to turn their focus to creating evening-length theatre works and went on to produce Common Ground, a show centered on the idea that there is always a tie that bonds us, regardless of our differences. Common Ground has been met by sold-out crowds, critical acclaim, grant awards from The Arizona Commission on the Arts and Tempe Center for the Arts, and a nomination for ECHO Magazine's Reader's Choice Awards.
Common Ground has been revamped and produced four different times (2009, 2011, 2013), each with new, unique twists and fresh choreography.  It continues to be a crowd favourite among fans.EPIK then went on to create EPIK Effect, which premiered to over 1500 people on the main stage at Tempe Center for the Arts.  EPIK Effect focused on sustainability – How do we sustain our world and ourselves?  Through EPIK Effect, they continued to push boundaries by tackling current and provocative subject matter, using multiple styles of dance, spoken word, acting, and video.
As they continue to focus on dance for the stage, EPIK has become a key player in the community, offering performances and residencies for schools, community, and charitable organizations.  In 2011, they formed a partnership with The Be Kind People Project, a character education, and youth development organization, and created the Be Kind Crew. After creating and premiering their assembly program that teaches students about kindness through hip hop, dance and spoken word in Los Angeles, the rest was history.  The Be Kind Crew has been traveling the country spreading kindness and offering innovative programs ever since. In 2013, EPIK premiered their anti-bullying show, Every Move Matters, at Tempe Center for the Arts to over 1000 middle school students.  The show is paired with pre/post-workshops with the students to provide them an outlet to express themselves and tools to deal with the bullying at their schools.
EPIK is currently an educational partner at Mesa Arts Center, where they hold weekly classes for students of all ages and abilities.  They are proud to call Mesa Arts Center their home! They premiered a new show in collaboration with cutting-edge strings trio, Simply Three, presented by Mesa Arts Center in 2015. Simply EPIK is a stunning marriage of movement and sound, showcasing how music is the soundtrack of our lives, affecting the mind, body, and soul. Once again, EPIK found new ways to push themselves artistically and deliver something different to audiences.
EPIK's newest work, Don't Hold Your Breath, premiered in March 2018 to over 1100 people.  Never satisfied to present the same type of work, EPIK challenged themselves even further to tell the story of one singular character while using more text and vocal singing than ever before.  The show follows Kat, a woman with a party girl attitude, who finds herself in an MRI machine that could ultimately determine her fate.  As the machine examines her body, she begins to examine her life, causing her to confront some of life's most existential questions. Her thoughts take her to memories of her past and visions for her future as she faces the reality that life is finite, and tomorrow is not promised.  DHYB displays a thought-provoking narrative along with dynamic choreography that takes audiences on an emotional journey of highs and lows that leaves them reflecting on their own lives.
EPIK was awarded the Phoenix Mayor's Arts Award in 2013 and has been nominated for the Governor's Arts Awards for Arts in Education for an Organization three times. They truly believe a connection to the arts, and more specifically dance can provide limitless benefits to audience members, artists, and the community as a whole. Through classes, performances, and community outreach, EPIK Dance Company is focused on providing people of all backgrounds the chance to experience the positive physical, mental, and psychological benefits of dance and the arts; both as audience members and as artists themselves.